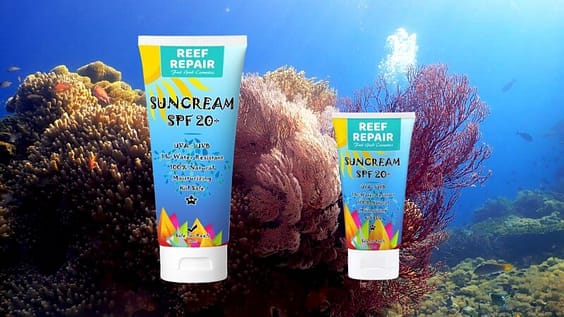 The entire diving community in Thailand heartily welcomed some uplifting news last week. The Thai government declared that all sunscreens containing harmful chemical substances for coral reefs are banned from all marine national parks nationwide.
The government based their decision on scientific data showcasing these chemicals "deteriorate coral reefs, destroy coral larvae, obstruct their reproductive system and cause coral reef bleaching." The ban applies to sun lotions containing oxybenzone, octinoxate, 4-methylbenzylidene camphor or butylparaben.
Violations of the ban can lead to a steep fine (max 100,000 THB or 3,000 USD), although officials have not said how they plan to enforce the ban. Thailand is not the first country to introduce such a ban: Palau, Hawaii, and France were earlier trendsetters.
As soon as we found a reef-friendly alternative in Thailand, we have been selling Reef Repair sunscreen on board The Junk and The Phinisi. This sunscreen is 100% natural, waterproof, biodegradable and not tested on animals.
2020 Roadmap to Sustainability
The Junk Liveaboards is thrilled with this decision of the Thai government, which fits right in with our roadmap to go greener and more sustainable as a dive operator.
We established this roadmap in 2020, together with our partners Master Liveaboards, Blue O Two,  and The Reef-World Foundation. It encompasses all aspects of our diving operations including: responsible waste disposal, impact on the environment, eco-friendly toiletries and cleaning products. Moreover, we aim to educate our guests and make them aware of the importance of sustainability and how they can help.
We have started by removing as much single use plastic as possible; not only from our dive operations but also from our office. A next step we have taken is to replace shampoo and shower cream for our guests and all cleaning products used on the boat with sustainable options. Other measures will follow suit, such as: we already encourage our guests to bring their empty batteries home and dispose of them responsibly.
The Junk Liveaboards is fully committed to follow our roadmap and reduce its impact on the environment; as it is the environment itself that provides us with a living. We appreciate any and all help from our guests and strive to become the 'greenest' dive liveaboard operator in Thailand!